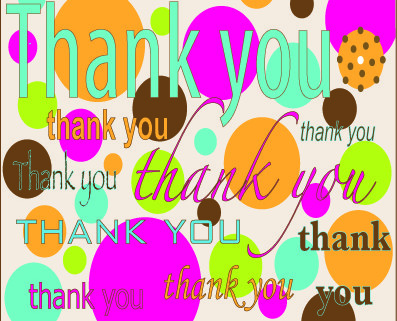 Better late then never — I just wanted to say thanks!
I've never been so grateful for chaos.
My sales in 2014 shot way up and the feeling is incredible.  Don't get me wrong, it was exhausting.  I worked incredibly hard and didn't get much sleep in 2014; but my sales far exceeded what I even thought possible just two and a half short years ago when I left my cubicle to make this passion of mine a real business.  There were plenty of nay-sayers — people who thought I was crazy leaving the security of The Firm, but those closest to me never questioned, pitched in and showed unwavering support — and this year was certainly no exception.
It's no lie.  It takes a village and I'm so grateful for my village.  If you're reading this you're probably a bigger part of my success then you think.  Whether it's making a purchase, sending a kind word, whispering a compliment of my work to someone you are shopping with, offering a "like" on Facebook…or even just smiling when seeing my work at one of my stores when I'm there — it's all fuel that keeps me going.  So, thank you.  Really.
One of a Kind was fantastic.  I learned a lot.  I slept none.  I met incredibly awesome people, and I'll definitely be back next year, hopefully in a larger space.
Some changes are happening in 2015.  The biggest being that I just finished moving out of the Evanston store.  Not because my sales weren't good enough (they were) and not because it's too far to travel (it was the closest of all of my locations) and not because I didn't love the customers (of course I did!) but because it was time.  The decision was a real struggle for me and pulling the trigger was incredibly bittersweet, I loved my space there — I mean I LOVED it, and I loved working there which afforded me the opportunity to interact with customers on a regular basis.
All of that being said, taking something off of my plate should allow me to focus more on my remaining locations as well as the few shows I do.  I'm hoping it will also allow me to have some time to explore new ideas that have been spinning about in my head — some for years.  Additionally, I've already expanded my space at Elevenzees in Wicker Park and am in process of completely revamping my space at Local Goods Chicago in Edgebrook and, of course, I'll be freshening up my Andersonville Galleria space as well.
If you're ever wondering where to find me you can click on the "contact" link above in the menu bar.  Shows and other fun happenings will always be listed under the "events" link.  There's nothing current there now because, let's face it, people are hibernating.  Thank goodness because I need time to rebuild stock and do all of that expanding, revamping and freshening that I mentioned above.  Oh, and I have to rebuild stock so that this website can be finished!  I sold out of a lot over the holidaze (yay!)…before being able to take photos for the website.  Still, you're always welcome to shop here or send me an email if you don't see what you're looking for or if you'd like to request something custom.
Thanks again for making 2014 the glass station's best year ever.  2015 is going to be another fantastic year, I just know it.
Onward and upward,
Kimberly